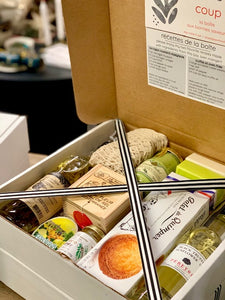 la boîte aux bonnes saveur - the box of good taste
Regular price $ 155.00 Sale
la boîte aux bonnes saveurs

the box of good taste
we are so very excited to introduce you to this thoughtfully chosen box of tasty french goodness! since we live in france part-time, we are able to taste many tasty french goodies and put it all together for you to enjoy.
this season's box contains:

edmond fallot tarragon mustard - made from black and brown mustard seeds blended with fresh tarragon leaves. my very favorite french mustard – i use it in a tasty salad dressing – my recipe included – or try as a dip for fresh vegetables or shrimp, an amazing potato salad or as a mustard cream sauce for chicken.


leblanc tarragon vinegar - smooth and subtle, this vinegar has many uses. toss it with roasted potatoes, use it as a pork or chicken marinade or add it to a rich creamy soup to brighten the flavors. i use it in a tasty salad dressing – my recipe is included.


pebeyre black truffle oil - black truffle oil is a finishing oil and has a stronger taste than white. it pairs well with meats, sauces and casseroles - drizzle over pasta, risotto and mashed potatoes. recipe included for my favorite roasted oven fries.


famille perronneau acacia honey – a delicious honey variety - drizzle on baked pears or a cup of tea perhaps?


le saunier de occitanie fleur de sel in a wood box – fleur de sel is the best sea salt!


coucke bistro menu tea towel – the perfect traditional french torchon.


filet bleu traditional shortbread – buttery deliciousness – these are crazy addicting!


la savon de nyons – verveine & lait d'ânesse soap 100g
lait d'annesse - organic donkey milk -with olive oil to hydrate and soothe your skin.
verveine – lemon verbena - shea butter and olive oil with fresh and tart fragrance
all of our soap is made in france in our traditional soap factory in provence.


les anis de flavigny - all natural lemon mints - all-natural anise and lemon flavored candies. each anise seed is coated with natural flavored sugar. a very traditional french candy.


cotton net shopper - the perfect little traditionally french, everyday market bag – made in a factory making woven cotton bags, fishing nets, ropes and candle wicks since 1860.